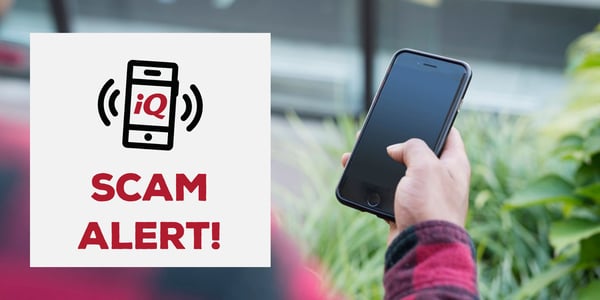 Please be aware: this is impacting other financial institutions in the area.
We've been made aware of a new scam that is on the rise. Scammers are targeting Credit Union members and contacting them by phone and identifying themselves as iQ employees.
The scammer's goal is to create fear by stating there is a problem at your financial institution, and they are calling because you need to know about it. The scammer then creates a sense of urgency by telling you that you need to remove your funds from your current account and either wire the money elsewhere or deposit it in a Bitcoin ATM.
Remember, your money is safe and secure at iQ Credit Union and insured by the NCUA. We will never reach out to you by phone, text, or social media to request that you take any actions on your account such as withdrawing or wiring money.
What you can do to protect yourself:
Avoid providing identifying information to the caller.
Know that we will never ask you for personal details.
Hang up from the phone call and call us directly at 800-247-4364. (If you're still unsure about who is calling, you can look up our number on our website.)
Be alert if the caller suggests lying or being secretive with your financial institution activity.
Think before you take any action: we would never make a suggestion to withdraw large amounts of money, wire money elsewhere or utilize bitcoin ATMs.
The caller may have access to your personal information. Be alert if they share account details to gain your trust.
Trust your instincts when a caller makes you feel fearful or desperate and that you need to take action right away.
Never give out your online banking username and password.