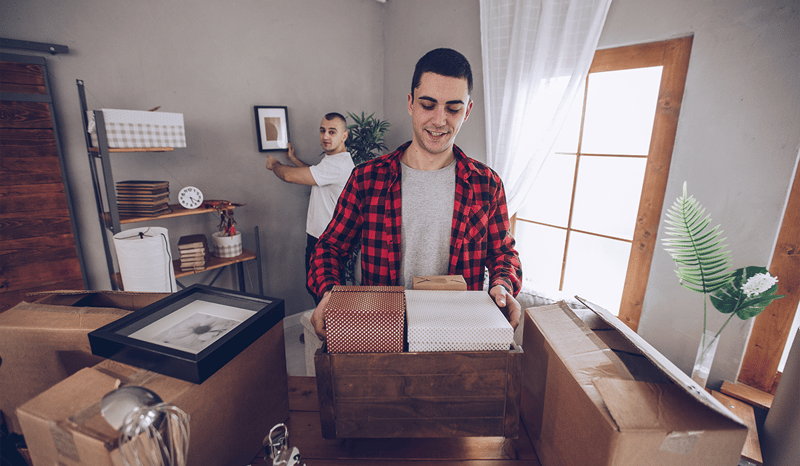 College is an exciting new chapter of your life, but it's also a significant financial challenge.
We've got you covered. Here's the Strategic Budgeting for College Students 101 course you didn't know you needed. (Consider it your first preorientation crash course.)
Bookmark this article, and get ready to take notes. Let's talk money-saving tips to help you create the best college student living space possible!
Study Up! Here's What You—and Your Dorm—Need to Succeed
Welcome to your new humble abode: your dorm room. To make it feel like home, you'll need to invest in a few things.
Classic dorm essentials include:
A mini fridge and a microwave for storing and cooking simple meals and snacks
Correctly sized bedsheets, a mattress pad, and comfortable pillows
Storage solutions, especially under-bed storage or stackable bins to maximize space
Lighting options, such as desk lamps, floor lamps, or LED and twinkle lights (as well as power strips and extension cords because dorm outlets can be scarce and oddly located)
Laundry essentials, including a hamper, a basket or two, detergent, and a few rolls of quarters
First aid supplies, from bandages and pain relievers to cold remedies and cough drops, which are often overlooked but can be extremely handy when you or a new friend isn't feeling well
You'll also need to fill your desk and backpack with school supplies, such as a laptop, pens, pencils, highlighters, notebooks, and file folders. Trust us—you'll have a lot of paper to organize. It's best to be prepared.
Stock your mini fridge with groceries too. Having delicious dining available in your dorm will help curb late-night takeout. Finally, grab earplugs and an eye mask. These can be crucial when your roommate is up late studying or you're trying to nap during the day.
Budgeting for College Student Dorms: A Quick-Start Guide
Now that you know what you need, it's time to figure out how you're going to pay for it.
We'll break budgeting strategies for college students down into three accessible steps.
Step 1: Assess what you need, already have, and really want.
Carefully reread the above section and cross-check that list with items you may already have. If you know who your roommates are, reach out to them too—they may already have a few of the things you'll need for your shared space.
Then, assess your to-get list. Identify your top priorities and the things that are good-to-haves but not necessarily must-buys. This can help you prioritize your shopping list to fit your budget should the need arise.
Step 2: Establish a reasonable dorm budget.
First, get a good handle on your income sources. This income could come from your existing savings, part-time jobs, grants, scholarships, family support, or other forms of financial aid.
Then, with your edited-down dorm shopping list, it's time to figure out how much you need to save to cover your expenses.
Your expenses will fall into two general buckets: your fixed expenses (such as your tuition, board, and dorm room costs) and your variable expenses (such as your textbooks, supplies, and groceries). Do your research to determine precisely how much these will cost.
You can also use a simple budgeting tool to input your expected income and planned expenses. Mint is an excellent option, as is our free budgeting template. That way, you'll clearly understand your financial needs and how your current savings align with your future expenses.
Step 3: Manage your money wisely.
Make sure that you have savings and checking accounts and that you're aware of your lending and investing options. Having trusted financial health and literacy tools to rely on can make a massive difference while you're entering this next chapter of your life.
A certificate of deposit (CD) can be an excellent saving tool too. CDs can earn higher interest rates than other alternatives, and you can set your account to mature right when you're ready for college.
Maximizing Your Dorm Budget: Money-Saving Tips for College Students
Now that you know what you can spend, it's time to make every dollar stretch as far as it possibly can.
Ready to build your dream dorm while getting the best bang for your buck? Follow these quick tips, and you'll be headed in the right direction.
Look for student discounts. Pull out your student ID and ask for student discounts on furniture, electronics, and other items.
Buy used. Head to the thrift shop to find high-quality secondhand items.
See what your community has to offer. Talk to upper-level students to see if you can borrow or buy their old books; seek out gently loved dorm furniture through social media.
Rent, reuse, and recycle. Need a big couch? See if you can rent one. Got an old table? See if you can refinish and reuse it. In need of a new rug? Maybe a few old ones arranged strategically would do.
Check in on your budget regularly. If your finances are out of sight, they'll be out of mind too. Track your expenses, check your credit cards, and adjust your spending habits as needed.
Looking for More Thrifty Tips and Budgeting Best Practices?
Following these budgeting tips for college students can help you save a lot of money and set you up for a financially responsible future.
Interested in more easy-to-use tools, such as our saving for college calculator, or written-for-you financial literacy guides? We're here to help. Stay tuned for more financial literacy articles from iQ Credit Union!