Wiersma will lead iQ's dynamic business services department with a commercial loan portfolio over $250M
Vancouver, Wash.— iQ Credit Union today announced that Jeremy Wiersma has joined the credit union as vice president of business services. Wiersma will lead iQ's business services department with more than 20 years of collective experience and with a commercial loan portfolio of over $250 million. iQ's business services team provides CRE, C&I, and C&D loan products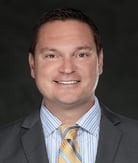 to its growing member base.
Wiersma has nearly 20 years of experience in the commercial banking, most recently serving as an AVP and commercial team leader at Gesa Credit Union in Eastern Washington. Along with his expertise in commercial lending and underwriting, Wiersma is also an experienced leader who will help continue iQ's growth and excellence in business services.
Jeremy Wiersma will be taking over the role from Ed Franks, iQ's business services department leader for 10 years, who will be retiring from the credit union at the end of the month.
About iQ Credit Union
iQ Credit Union is a full-service financial institution serving the Pacific Northwest since 1940. With nearly 90,000 members in Washington and Oregon, the credit union is known for its deep commitment to financial education and community engagement—and for its signature red and black Buffalo plaid colors. iQ helps WAnderers and explORers reach their financial goals by offering honest and friendly advice at any of its 16 branches. More information is available at iQcu.com.
###