Recent promotions continue iQ's tradition of developing and advancing the credit union's leaders
iQ Credit Union is committed to cultivating a great company culture while doing everything it can to improve the financial strength of its members. Because of these commitments, iQ made the recent announcement that long time team member and former SVP of Human Resources, Kari Stansberry, will be taking on a new role as Chief Administration Officer and Hillery Losli will be promoted to VP of Operations and Project Management.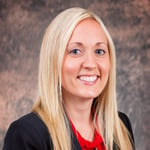 Stansberry's career and leadership started 20 years ago at iQ, where she was most recently the senior vice president of human resources. In her new role, Stansberry will oversee operations, in addition to her current responsibilities of overseeing human resources, talent development, and facilities management. Stansberry is also a member of iQ's executive team and contributes directly to the long and short-term strategic objectives to maximize the credit union's overall effectiveness.
Losli's promotion comes on the heels of working 22 years in the financial industry, including the last 12 years at iQ. She is a certified Project Management Professional, as well as past president and board member at the Southwest Washington chapter of Credit Unions
"We congratulate both Kari and Hillery for their impressive careers and recent promotions," says iQ Credit Union's President and CEO Eric Petracca. "These advancements reflect iQ's commitment to harnessing our credit union's exceptional talent for the benefit of our staff, members and the Northwest communities we proudly serve."