Vancouver, Wash.— iQ Credit Union today announced the appointment of its new chief financial officer, Dan Medak. As CFO, Medak will oversee the credit union's accounting, insurance, and Investment & Retirement Services departments.
"We are delighted to welcome Dan as our new CFO and I look forward to collaborating with him," said iQ's President and CEO Eric Petracca. "His impressive background and diverse financial experience will serve our credit union well for years to come."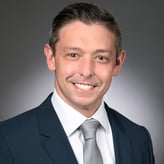 Prior to joining iQ, Medak served as treasury manager for six years at OnPoint Community Credit Union, where he directed the performance and delivery of the credit union's asset-liability operation. He also worked at Federal Home Loan Bank in Seattle, Washington as the funding and derivatives portfolio manager. Medak earned his MBA from the University of Portland and is a Certified Treasury Professional (CTP). He currently serves as a director on the Junior Achievement of Oregon and Southwest Washington board and has worked as an adjunct professor at the University of Portland.
About iQ Credit Union
iQ Credit Union is a full-service financial institution serving the Pacific Northwest since 1940. With nearly 90,000 members in Washington and Oregon, the credit union is known for its deep commitment to financial education and community engagement—and for its signature red and black Buffalo plaid colors. iQ helps WAnderers and explORers reach their financial goals by offering honest and friendly advice at any of its 16 branches. More information is available at iQcu.com.
# # #